By hipflaskmade |
08
October 2023 |
0
Comments
The Art of Personalization: Engraved Stainless Steel Hip Flasks
Are you looking to add a sophisticated and elegant addition to your home bar? Look no further than engraved stainless steel hip flasks! These stylish accessories make for the perfect personalized gift, as well as incredible keepsakes that can be enjoyed by anyone. Not only do they feature sleek construction and unique designs, but they also bring an extra level of personalization with custom engravings – designed just for you. Imagine having your initials etched onto a stunning piece of stainless steel – one that will last for years to come. In this blog post, we'll explore the art of personalizing hip flasks: how easy it is to customize them with names or short messages; where you can find these quality pieces; and tips on how best to care for them after purchase. So, if you're considering investing in an heirloom-quality accessory that expresses your style and individuality, read on!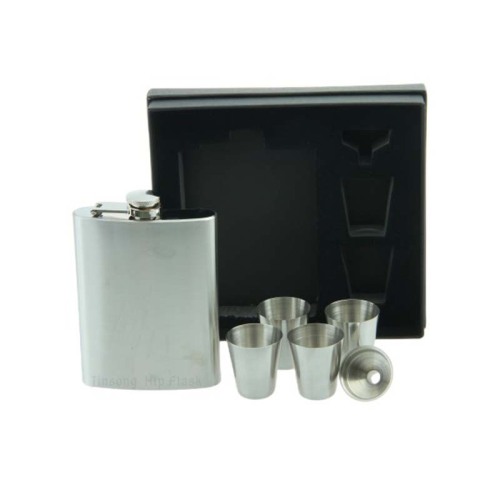 1. A Touch of Elegance: The Craftsmanship Behind Engraved Flasks
Engraved flasks are not just practical items for carrying a favorite beverage, they are also a timeless symbol of elegance and sophistication. What truly sets these flasks apart is the intricate craftsmanship that goes into each engraving. From the careful selection of font styles to the placement of each letter, each stroke of the engraving tool is a testament to the skill and dedication of the artisan. The result is a truly unique and personal keepsake that is both stunning to look at and functional to use. Whether given as a gift or purchased for oneself, an engraved flask is a stylish accessory that is sure to impress.


2. Custom Stainless Steel Flasks for Special Occasions: Birthdays, Weddings, and More
When it comes to celebrating special occasions, there's nothing quite like raising a toast with your loved ones. And what better way to do it than with a sleek, stylish stainless steel flask that's been customized just for the occasion? Whether you're looking to commemorate a milestone birthday, wedding, or any other momentous event, custom stainless steel flasks are the perfect way to add a touch of personalization and elegance to your celebration. With a wide range of design options and engraving capabilities, you can create a one-of-a-kind gift that's sure to be cherished for years to come. From the exquisite craftsmanship to the customizable features, custom stainless steel flasks are ideal for any special occasion.


3. The Perfect Gift: Engraved Hip Flasks for Every Personality
Are you tired of giving the same old gifts every year? Look no further than a personalized engraved hip flask made from durable stainless steel! With so many options tailored to different personalities, there's no way you'll strike out this gift-giving season. Does someone in your life love the great outdoors and camping? Opt for a flask with a nature scene. For the classy whiskey connoisseur, choose a sleek, minimalistic design. And for the witty friend with a sense of humor, you can't go wrong with a pun or witty phrase engraved on their flask. Whatever their style, an engraved hip flask is the perfect gift that they'll never forget.


Overall, there is nothing like giving a personalized engraved flask as a special gift. Whether it be for birthdays, weddings, anniversaries, or box sets for brothers in arms – these items are made with precise craftsmanship and will offer years of presence. Make sure to check out specialty coffee mugs with designs for nautical ships and international symbols on them too. The best part of shopping for gifts like this is that they can celebrate special moments while adding a touch of elegance across any event. Flasks engraved through Smallville Gifts come with an unconditional satisfaction guarantee; if you aren't happy, we'll make it right! Explore our selection of classic stainless steel flasks today - your loved ones will thank you!
Leave a Reply
Your email address will not be published.Required fields are marked. *