By hipflaskmade |
31
July 2023 |
0
Comments
Custom Hip Flasks: Perfect Blend of Style and Functionality
A hip flask is a great way to always have your favorite beverage of choice on hand. Not only do custom hip flasks provide the perfect combination of style and functionality, but they can also be personalized to fit any individual's needs. Whether you're looking for something special for yourself or a unique gift for someone else, having a stylish yet practical grade stainless steel hip flask that is laser-engraved with initials or an intricate design gives it that extra bit of character and makes one truly stand out from the crowd. Read on further as we explore some amazing custom hip flask designs available today as well as how they are crafted!
The Art of Crafting Leather Flasks: A Blend of Tradition and Innovation
Leather flasks are a timeless accessory that exudes a sense of sophistication. The craftsmanship that goes into crafting these flasks is an art form that seamlessly blends tradition and innovation. From selecting the finest hides to carefully crafting each stitch, every detail is meticulously executed. What sets these flasks apart is the attention to detail given to every step of the process. Each flask has a unique character, seamlessly blending the timeless traditions of leatherworking with modern techniques. Whether you're looking for a classic, timeless look or a modern, edgy vibe, a leather flask is the perfect accessory. The art and craftsmanship of leatherworking are evident in these flasks, making them a coveted accessory for anyone seeking high-quality, stylish accessories.
Showcasing Our Diverse Range of Leather and Stainless Steel Flask Designs
Our collection of leather and stainless steel flasks is a celebration of diversity. A variety of colors, textures, and designs showcase the unique personality of each flask, ensuring there is something for everyone. From sleek and stylish to rustic and charming, our flasks are the perfect accessory for any occasion. Whether you're enjoying a night out with friends or taking a camping trip in the great outdoors, these flasks will keep your drink safe and at the perfect temperature. So, why settle for a basic and boring flask when you can show off your unique style with one of our remarkable designs?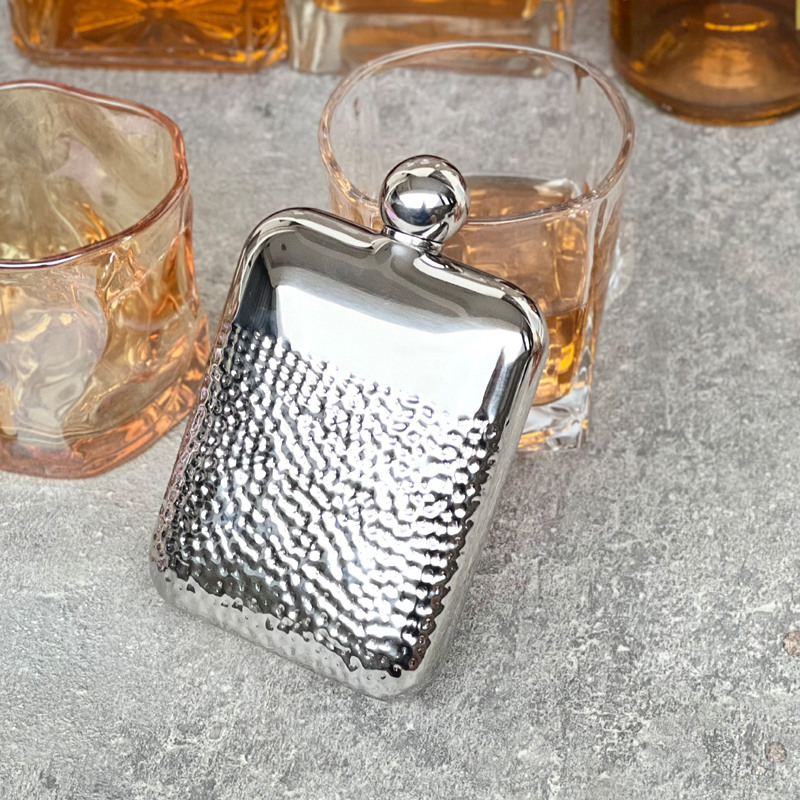 Exploring Our Range of Customizable Stainless Steel Flask Designs
For those who love to bring their favorite beverages on the go, our customizable stainless steel flasks are a must-have accessory. We offer a wide range of designs, from sleek and modern to elegant and classic, that can be personalized to fit your individual style. Whether you're heading to a tailgate party or going on a camping trip, our flasks are the perfect companion to keep your drink of choice close at hand. Not only are they convenient, but they're also durable and long-lasting, ensuring that you'll have a reliable container for your beverages for years to come. With so many options to choose from, there's a flask for every personality and occasion. Start exploring our collection today and find the perfect flask to suit your needs!
Crafting leather flasks is an art, melding traditional craftsmanship with modern design. From classic browns and blacks to richer and darker tones like mahogany, crimson, and ox-blood red, our comprehensive range of leathers gives us the chance to let your style shine through in whatever type of flask you choose. With a variety of styles and sizes available, you'll be able to find a design that works for you no matter your lifestyle. Our customizable stainless steel designs let you personalize your flask with custom monograms or add a flavor of refined simplicity with a brushed silver finish. Ultimately, crafting leather flasks is about expressing yourself in the perfect way. As you explore different types of flasks and unique design customs, experience the joy of creating something special – something that will last forever.
Leave a Reply
Your email address will not be published.Required fields are marked. *